Hello farming engineers!
We're excited to share with you our latest development upgrades for Farm Folks!
But - before you continue - you need to make sure you're part of our awesome Discord community. Click here to join. We love sharing unique development content, engaging with our friends, and are planning to run some exciting contests where you can influence development AND win some amazing prizes. What are you waiting for?
PRE-ALPHA
The Pre-Alpha is very close! We're aiming to let qualifying backers play it very, very soon. We will have a separate update sometime next week with more details, including actual dates, who will get access, and what you can expect to see in the game at the current development stage.
As things are settling down, we're becoming more and more active on social media and would like to invite you to subscribe to our YouTube channel to keep an eye on our day-to-day updates. Leave us your likes and comments on new videos. This will help us grow our channel and unlock new YouTube perks which will allow us to share even more content with you. Subscribe here.
We're also on TikTok and already have videos with over 100K views, crazy ha! Click here to check it out
Alright, enough with the social mambo jambo, let's get to "business."
WATCH THE DEVLOG #4 VIDEO SUMMARY




IN-GAME LIGHTING AND SEASONS
Farm Folks will have super duper awesome lighting systems that will allow us to have dynamic weather conditions along with breathtaking views - all of which are going to be very different from season to season. Expect very romantic experiences with NPCs like dinners that will take place at the hill cliffs during sunset.
Unlike in other farming life sim games, Farm Folks will have a continuous day/night system
that will let you continue managing and/or building your farm - even at night. Your character will have the stamina that will allow them to continue their journey for several days at a time.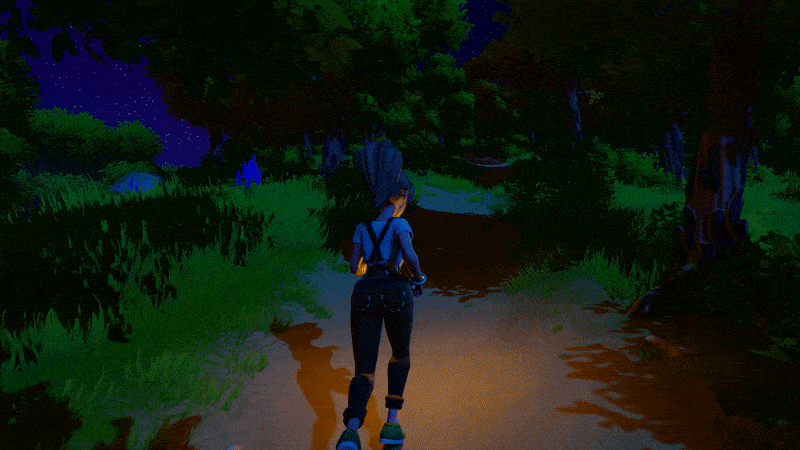 Things like wind, rain, or snow can also start dynamically and will have different lengths based on the current season in-game. You'll be able to check the weather forecast on your laptop or TV. We will talk more about the forecast system in our future updates. Make sure to sign up for our updates so you don't miss it!
HAIRSTYLES AND CUSTOMIZATION
In Farm Folks, we're planning to have a great set of various hairstyles to choose from and, of course, you'll be able to customize the color of the hair. We're also planning to add a Hair Constructor to the game which will give you absolute freedom over the haircuts you would like your character to wear. You can unlock unique hairstyles in the saloons of the Portorovigo Town located on Softsholl Island. We will talk more about Local Shops in the future.


REAL-TIME HAIR PHYSICS
In addition to beautiful, custom hairstyles, we're also revising our animations to ensure your hair - and every other character detail - looks soft and organic. We're adding real-time physics to your character's hair which means it will bounce and sway based on environmental conditions like wind.


FISHING
What farming game is without fishing? The waters in Farm Folks are going to be filled with fish and other discoveries. Each fish will have a rarity level, ranging from Common, Rare, and Epic variants. You can cook, trade, or even farm caught fishes. Yeh you read it right, you'll be able to have your own fish farm!
Sunset PufferFin
Named by
WoolyPie#5699
and discovered by
Finlay
We just named one of our fishes with the help of our FanClub members.
Legendairy and VIP members can participate in closed community voting where they can come up with original names for items, animals, etc. in the game. If you would like to become a member, check available tiers here
ISLAND AND CONSTRUCTION
For the last few months, we were working on our first island. This initial island is designed to give us maximum information from the closed tests as it has a diverse landscape. Unlike in other farming games, our goal is to give you the ability to build your structures wherever you want - be it on open ground, hills, the beach, or even against mountain cliffs. We will talk about the construction process in our next update.


NEW NPC IS ON THE WAY
A brand new and super dateable NPC is about to be revealed! We're finalizing their story and will showcase them within the next few days. There is a high chance that if you're a VIP or Legendairy FanClub member, you already saw this upcoming NPC (so please remain silent, or else :D)!


TEAM UPDATES
We're also happy to welcome new members of our dev team! Meet
Adam
, an insanely talented technical artist, and
Bruno and Camila
, a husband/wife team working on beautiful concept art and character development. In our next updates, we will showcase a new Local NPC from the game and a few more construction elements that you'll have to work with.
OUR FAVORITE VIDEOS
Watch DoctorDDub and SharkyGames videos featuring Farm Folks
Make sure to sign-up for our newsletter so that you don't miss anything. And of course, join our Discord to participate in our contests with prizes and share your feedback with our lovely community.
Have a great day!
Crytivo Crew